One of the most scenic golf courses in Central New York, Woodcrest Golf Club sits on a ridge overlooking Oneida Lake and the foothills of the Adirondacks, offering a challenging 18 holes of golf for its season pass holders, the golfing public, group, and company golf outings.
_____
Woodcrest Golf Club/The Whitetail
6200 Cheese Factory Road
Manlius, NY 13104
PRO SHOP: 315.687.9401 THE WHITETAIL: 315.687.9216
_____
Woodcrest Cup 2023 Results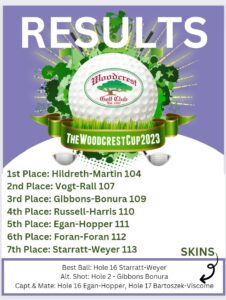 Congratulations to Seth Bailey for winning Men's Club Championship and Joan Gibbons for winning Women's Club Championship!

Congratulations go out to our other division winners, as well!
Senior's Championship: Jeff Shell
Men's Net: Scott Fletcher
Senior's Net: Pete Bobbette
Congratulations to Jeff Middleton and Dave Martin for winning the Championship Flight of the 2023 Member/Member!
Congratulations to Zach Condon and his brother Matt for winning the Championship Flight for Woodcrest's Men's Member/Guest!

We honor the CNY Player's Card
The Central NY All-in-One Golf Discount Card
Player's Card Specials at Woodcrest