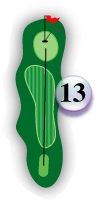 150 Yards – Blue Tees – #16 Handicap Hole
140 Yards – White Tees – #16 Handicap Hole
100 Yards – Red/Gold Tees – #16 Handicap Hole
The 13th hole, a short downhill par 3, is nestled between the 12th and 14th fairways and framed on all sides by large trees.
The small, flat green is two-tiered and slopes slightly from left to right. The upper tier is in the back right portion of the green.
Playing Tip:
Depending on the direction of the wind and location of the tee markers, this short slightly downhill par 3 can be played with a surprisingly different array of clubs and shaped shots. A shot short of the green often finds the approach too soft to allow the ball to release onto the green, while a shot pin high, left, right, or long, can often end up in an unplayable location in the surrounding trees and rocks. Therefore, club selection is critical, taking into account all of the variables. The center of the green here is always a good shot, no matter where the flag is actually located.