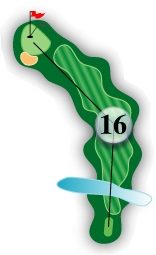 460 Yards – Blue Tees – #2 Handicap Hole
445 Yards – White Tees – #2 Handicap Hole
419 Yards – Red/Gold Tees – #4 Handicap Hole
The 16th Hole is a long, dogleg left Par 4 bordered by a lateral hazard waste area and 17th hole on the left and the 12th and 11th holes on the right. A lateral hazard creek bed fronts the tee. Small trees are interspersed in the rough on both sides of the hole leading to a slightly elevated green. The in-course out-of-bounds stakes for the 11th hole are not in play for the 16th.
The medium sized, elevated, circular green is guarded by sand bunkers on the front left, right side and behind left.
Playing Tip:
Now here is the first hole on the Back Nine where the driver is probably a necessity. When the course first opened it was designated as a Par 5, but the Distrct Golf Association rating the course suggested the change to a Par 4 due to its length. A decent drive will clear the small rise in the fairway and leave a second shot of less than 200 Yards to an elevated green. If you are playing in a match and happen, more likely than not, getting a stroke on this hole, play it conservatively as a par five and take the bogey, net par and make your opponent make par to halve the hole