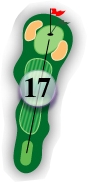 166 Yards – Blue Tees – #12 Handicap Hole
156 Yards – White Tees – #12 Handicap Hole
146 Yards – Red/Gold Tees – #18 Handicap Hole
The 17th hole is a medium length par 3 between the 16th and 18th holes. A lateral hazard creek bed runs the length of the hole on the right side. Also a lateral hazard wooded area is located behind the green and to its right. The small round green slopes back, away from the tee and is guarded by sand bunkers, left and front right of the green, and a grass bunker on the right side with a small grass mound behind.
Playing Tip:
Another green on the back nine which slopes away from the tee. Hit a high enough shot and the ball may not travel too far on the green when it hits, but the possibility of a ball hitting the front of the green and running all the way to the back always exists and can be used to your advantage. Recent modification to the wooded area, short and right of the green, has turned a once impossible shot from a tangle of trees and rocks, into a possible scramble for par.