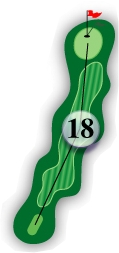 362 Yards – Blue Tees – #6 Handicap Hole
352 Yards – White Tees – #6 Handicap Hole
300 Yards – Red/Gold Tees – #6 Handicap Hole
The 18th and finishing hole is a medium length, slight dogleg left, par 4, located between the 4th and 10th holes. Small to medium sized trees are in both roughs the entire length of the fairway, which leads to a highly elevated three-tiered green.
The small, circular, uniquely, three-tiered green, slopes from back right to front left and is backed by a steep hillside which leads up to an overlooking viewing deck. The green is further flanked on both back sides by wooded areas and a paved cart path left.
Playing Tip:
Off this tee, sometimes a bad shot is not a bad thing. With the 18th fairway bounded by the 10th and 4th fairways, right and left, a hook or slice, if it can avoid the trees, often ends up in an adjacent fairway. It is still a problem though, having a second shot into the notorious three tiered, highly elevated green. Over the green is undesirable with any pin placement and putting from one tier to another is a challenge, whether downhill or up.