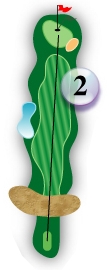 453 Yards – Blue Tees – #1 Handicap Hole
423 Yards – White Tees – #1 Handicap Hole
323 Yards – Red/Gold Tees – #5 Handicap Hole
The 2nd hole, the number one handicap hole on the course, is a long par 4 bordered by the 1st and 7th fairways.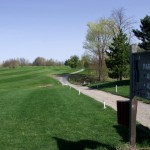 A small creek, continuing from the ravine on the first hole, fronts the men's tees and a large pond, left of the fairway and reachable from the tee, complete the lateral hazards on the hole. Several small and medium sized trees dot the rough on the left and ever maturing evergreens populate the right rough of the undulating fairway bordering the 7th fairway.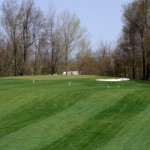 The medium sized, fairly flat green, guarded on the right front by a small sand bunker, is tucked into a slightly lowered area, surrounded by dense brush and trees on a sloping away hillside.
Playing Tip:
Keeping the ball out of trouble off the tee can be a challenge. The average golfer will often find himself with a fairly long second shot to the tree surrounded green. A layup, followed by a chip and a putt or two for par or bogey, can often save an early round from a big number disaster.