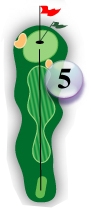 200 Yards – Blue Tees – #9 Handicap Hole
185 Yards – White Tees – #9 Handicap Hole
150 Yards – Red/Gold Tees – #9 Handicap Hole
The 5th hole is a long flat, narrow par 3 bordered on the left, the full length of the hole, by out-of-bounds off the cart path.  A creek and wooded area with lateral water hazard, lines the entire length of the right side of the hole. The large two-tiered green, flanked by sand bunkers both front right and front left, slopes from back to front.
Playing Tip:
It just may be the prevailing winds from the south, in your face, that always seem to make this hole play longer than it looks. If the pin is located on the small top shelf of the green, that extra club will help you get back there, but also brings into play the practice area tee over the green.