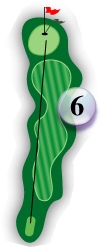 376 Yards – Blue Tees – #3 Handicap Hole
363 Yards – White Tees – #3 Handicap Hole
271 Yards – Red/Gold Tees – #4 Handicap Hole
The 6th hole is a medium length par 4, bordered on the left side from tee to green by a wooded hedgerow, that is out-of-bounds. The men's tees are located in a short chute of trees, which gives way to a rolling fairway, bordering waste area, and roughs surrounding the 3rd hole running the length of the right side. The rolling fairway gives rise to an elevated green, back dropped by a grassy hillside leading up to the 7th tee. The small, wider than deep, green slopes precariously from back right to front left with little fringe or rough between green and the back drop hillside.
Playing Tip:
Having a clear second shot to the green is a must. A shot into the left rough can be blocked by a small treed peninsula, jutting into the fairway, as can a shot right, be blocked by the hedgerow backing the 3rd green. The elevated green, once again, may alter your club selection, but in many cases, at least on this hole, it may be better to be a little short and chip onto the green rather than watch a back of the green downhill putt slowly go by the hole, only to start gaining speed and end up off the green in the fringe or worse.